Can you stick to your New Year's Resolutions?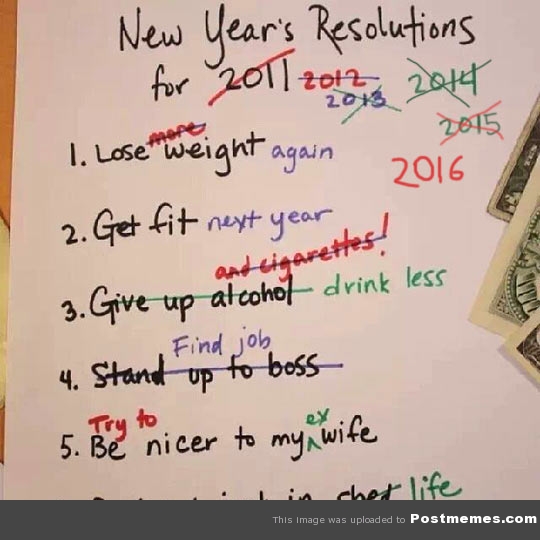 Way back on the last day of 2015, millions of people across the globe will have been setting their New Year's resolutions, however how many of them have stuck to them, past the first month of 2016? Well according to research from voucher code website, My Voucher Codes, 38% of Brits have already abandoned their New Year's Resolutions. Whilst 34% were still keeping up with their resolutions and 28% had given up on some of the resolutions they had made.
The research also showed the most common resolutions made:
Lose weight
Stop smoking
Eat healthier
More family time
Go to the gym
After the excesses of Christmas, losing weight was obviously top of people's minds for the New Year, so it's not surprising that eating healthier and going to the gym were also in the top 5. A vice for many people, stopping smoking was the second most popular resolution, although with the stresses of the New Year, we can see why some people may fail at giving this up! In fact we can understand how hard it is to stick to resolutions, the top 5 reasons given for giving up are:
No motivation – 38%
No time – 25%
Too hard – 17%
Outside influences – 15%
Too expensive – 10%
No motivation is a harsh reality, starting the New Year with good intentions, however it is easy to give up, especially when you set yourself goals, without a reward at the end of it. Been healthy and fitter is one thing, but sometimes that's not enough motivation, sometimes you need something tangible, such as a holiday or buying yourself a treat. One of the key things with setting resolutions is to make achievable goals, with a reward at the end, making sure you give yourself enough time and have enough resources to complete them, or you are setting yourself up to fail.
Our recommendations:
Set reasonable goals, that you have the time to achieve and that you can afford to do.
Always keep your motivation in mind to keep you on track.
Try to be accountable for sticking with your resolutions, or get family and friends to keep you going.
Sticking to your resolutions and achieving your goal might be motivation enough, however it's always nice to treat yourself!
You can read more about the research on this article as well as handy tips to keep up with your resolutions.